The Prince's Trust of Scotland was established in 1976 and has provided key skills, training and financial aid to help over 700,000 young people from ages 13-30 across the UK change and improve their lives. Knight Property Group has been a supporter of the Prince's Trust for eight seven years and has helped raise a substantial six figure sum over this period.
Gold Patron of The Prince's Trust and Chairman of Knight Property Group, James Barrack said, ". The Prince's Trust is about helping young people discover their own path to success. Each year The Trust supports thousands of young people in Scotland who are not in education, training or employment or who are at risk of under achieving in school to overcome the barriers they face."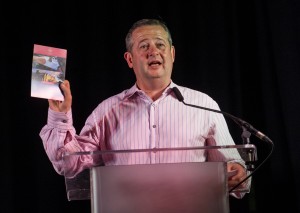 (James Barrack)
The Clay Pigeon Shoot, based in Gleneagles, is an unrivalled sporting layout for participants of all levels and incorporates a host of activities for non- shooting participants including archery, rifle shooting and haggis clay. This year, auction prizes include one weeks stay at a Spanish villa for 8, VIP box at Kevin Bridges for 16 and one weeks stay for 10 at a Las Vegas penthouse which went for an astonishing £20,000.
James continued, "As always, a fantastic day was had by all involved. The amount raised is a testament to the generosity of both the event sponsors and the guests who attended on the day. It's great to see people come together and raise money for such a tremendous cause."
Christina Wright, head of Philanthropy and Events for The Prince's Trust, said, "We are delighted that our Clay Pigeon shoot has become an annual event, continuing to raise vital funds in support of The Prince's Trust in Scotland. We support 9,000 young people across Scotland each year to get into work, education or training and turn their lives around.
"The generosity of our auction and prize donors and the commitment of the organising committee is exceptional and we are immensely grateful for the vital funds the event has raised, supporting us in helping thousands more young people reach their full potential and transform their lives."
(For more information contact Adele Slater, Group Marketing Coordinator)